July 9th, 2022

I am very happy to announce that a set of marimba mallet designs I created for Sweetwater are now available exclusively at Sweetwater.com
In support of their growing band and orchestra division, the kind folks at Sweetwater tasked me with designing a marimba mallet that could bring depth of tone, responsiveness, and professional feel to synthetic marimba performance. They're incredible on traditional wooden keyed instruments too!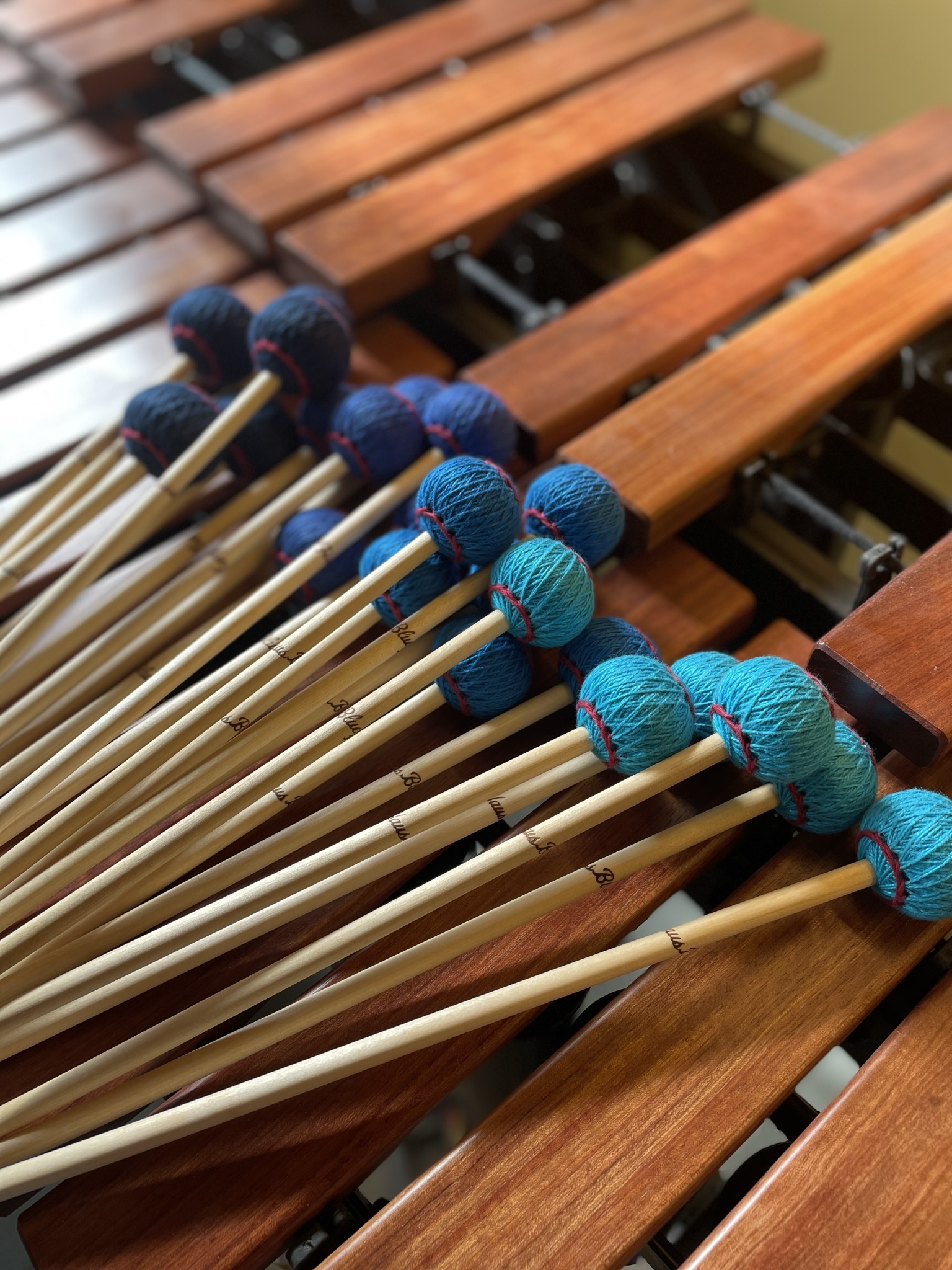 The 8mm birch handles undergo a multi-stage, bi-directional sanding process with a hand sanded oil finish. The BlueHaus logo is applied with a hot brand. Handles are matched in weight and flex that corresponds with each hardness. The Soft employs slightly lighter, more flexible handles for subtlety and nuance. The Hard uses slightly heavier, less flexible handles to facilitate speed and accuracy. Medium and Medium Hard fall in between. However, the gross weight of the mallets across the set is matched as closely as possible. Total mallet length is 41.5cm (~16.25 inches).
The cores are an optimized mushroom designed by BlueHaus and are cast directly onto the handles around added weight that is carefully placed inside the center of the core mass to help deliver as much energy as possible. The full tone across the entire set is crafted to blend into its neighboring mallet hardness with an even articulation response across a wide dynamic range.
Wrapping yarn tension is graduated from high on the Hard mallet to medium low on the Soft mallet, creating a careful balance between warmth and clarity. A fundamental set is Soft, Medium, Medium Hard, and Hard. Navy, Blue, Royal, and Cerulean yarn colors with a Red tie off is a specific design choice that echoes the Sweetwater logo. Packaging is minimal, efficient, and fully recyclable.
I'm thrilled to be able to offer these high quality mallets through one of the largest and best distributors of music gear on the planet. You're going to love these mallets!